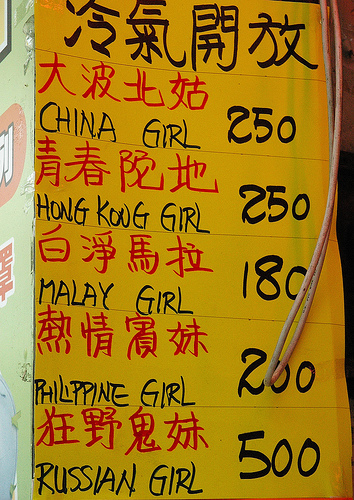 And what's so special about Russian girls?
This picture was posted on
The Wisdom of Whores
, Elisabeth Pisani's blog about "sex and science, HIV and other sundry things."
Pisani also has a book (
Amazon link
) by the same name about the spread of HIV and how her profession, epidemiology, really works. Pisani, an epidemiologist (PhD in Infectious Disease Epidemiology, London), advisor to the Ministries of Health of China, Indonesia, East Timor and the Philippines, policy advisor to the World Bank, World Health Organization, US Centers for Disease Control, etc etc etc...You get the point, she knows what she's talking about when it comes to HIV and its transmission.
She was also a correspondent for Reuters, The Economist, and Asia Times, giving her writing an engaging and personal effect as she unfolds stories from transsexual prostitutes, needle-sharers, and johns. Pisani makes no bones about the fact that she feels political correctness has effectively distracted the efforts to hault the disease. Nobody gets rewarded for helping whores and junkies, but to stop the spread of the disease that is what its going to take.
This may be the first book that rouses the public to understand the spread and chance at containment of a disease that is ravaging other parts of the world. I'm not going to say its
The Jungle
, but I hope that it can have some of the same industry changing influence.
Sphere: Related Content